Marina Boat and Pier Ramps
At Handi-Ramp, we carry two different types of boat ramps. The first is an accessibility ramp which provides smooth transport from the ground to the boat's deck also known as a boarding ramp. This allows individuals entering and exiting a boat to feel safe and secure when leaving a stable surface.
Looking for ramps for loading docks?
The second type of ramp is the perfect solution for docking on a wide variety of shorelines with your pontoon or personal watercraft. The ramps are constructed with easy-glide non-marking rollers, tough zinc plated winches, and a sturdy, lightweight aluminum frame secured with stainless steel hardware. Its modular design makes it simple to add extension sections for use in extremely shallow water or tidal applications.
Being a manufacturer enables us to custom design boat ramps and access products to meet customer specific needs. If it is not in our standard product list, we will design and produce the exact product you need. We have custom designed ramps for everything from access to swimming pools to recreational vehicles to cruise boat boarding ramps.
---
Loading and Boarding Ramps
---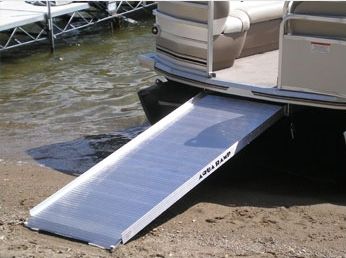 More Details
Call for Price

More Details
Call for Price
More Details
Call for Price
---
Boat Ramps
---
Need a winch upgrade or additional legs for stability? We have a variety of optional boat ramp accessories and upgrades available for purchase.
Need a custom solution? Handi-Ramp® will design a boat ramp and dock that is suitable for most of the boats in the area of the proposed ramp.
Handi-Ramp® accessibility experts can help with your site criteria, such as:
– Siltation Rates something to consider is the possibility that the water depth will not remain constant.
– Boat Ramp Size the size of the ramp and parking area depends on the anticipated use.
– Boat Ramp Design the design of the site, ramp and pier will have a major impact on construction and maintenance costs, and the usability of the facilities. Handi-Ramp® takes the time required to get a durable, economical, and functional design.
Handi-Ramp® will work with you to meet your needs and to provide you with a durable, economical and functional boat ramp design.